Pirates Place Giles on DL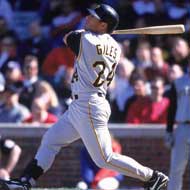 The Pittsburgh Pirates placed outfielder Brian Giles on the 15-day disabled list with a sprained ligament in his right knee. He missed Friday's game against the Chicago Cubs because of the injury.
The 32-year-old Giles suffered the sprain during Thursday's 3-1 victory over Milwaukee while trying to stretch a single into a double, but remained in the game for Pittsburgh.
Giles has had offensive problems so far this season, hitting just .226 with no homers and only four RBI in nine games for the Pirates. He was replaced in left field on Friday by Matt Stairs, who was acquired from Milwaukee in the offseason.
The 32-year-old Giles is playing in his ninth season in the majors. He spent the first four years of his career with Cleveland before being traded to the Pirates in November 1998.
For his career, Giles has 188 homers and 593 RBI in 909 games.
Pittsburgh, which recalled outfielder Adam Hyzdu from Triple-A Nashville to fill Giles' roster spot, is off to a good start this season. Two straight victories have given the Pirates a 7-3 record, good for second place in the NL Central, one-half game behind Houston.
©2003 The Sports Network. All Rights Reserved.
Photo Copyright Getty Images