Minnesota Repeats as NCAA Hockey Champions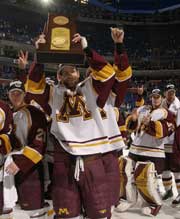 Barry Tallackson netted two goals to lead Minnesota over New Hampshire, 5-1, in the NCAA hockey championship game at HSBC Arena.
Freshman Thomas Vanek, who powers the Golden Gophers' top line, added a goal and an assist for Minnesota (30-8-9), which became the first repeat champions since Boston University won consecutive titles in 1971 and 1972.
Vanek's posted the go-ahead goal early in the third period to snap a 1-1 tie. The Austrian also tallied the game-winner in Thursday night's 3-2 semifinal victory against Michigan in overtime.
Sophomore Sean Collins scored the sole goal for the Wildcats (28-8-6), who reached the championship game for the second time in their history, but lost both times.
The game was tied at 1-1, but the Golden Gophers posted three goals within 5:50 of each other in the third period and they cruised to the one-sided victory. It was the largest margin of victory in a championship game since Boston University beat Maine in 1995 by a 6-2 final.
Travis Weber made 26 saves for the Gophers, who outshot New Hampshire 45-27.
Minnesota, which ended the season with nine straight wins, is 11-2-1 in the all-time series against New Hampshire.
The Gophers won their fifth title, joining Denver and Wisconsin, which also won five. Michigan has won nine championships, while North Dakota is second on the list with seven.
New Hampshire held on for a 3-2 victory over Cornell in semifinal action at HSBC Arena.
©2003 The Sports Network. All Rights Reserved.
Photo Copyright Getty Images